After we spent the first day of the Dragon Boat Festival being slothful, alternating dragging our bodies out for breakfast, for lunch, for dinner, and lying dugong-like on the sofa, reading and drinking coffee, we decided to be ambitious for the second day.
We decided we would finally use the Expo tickets we got when we signed up for the gym membership we barely use (as I noted before, we are frequently slothful and dugong-like when not working our asses off).
We are used to traveling on Chinese holiday long weekends (or in this case, workweeks) and crowds/hordes have ceased to faze us.  It couldn't possibly be more crowded than standing near the Famous West Lake in Hangzhou on Grave Sweeping Day.  We drank our coffee and were on the Pudong end of the site by 9am, when it opened.
It took us 2 sweltering hours to queue just to get to the gates. Babies cried; fights broke out; people shouted a lot, fans mounted on pillars misted us intermittently  with cool water to keep everyone from passing out from heat stroke.
People opened sun parasols and poked us in the eye at regular intervals. PLA guards came and reinforced the poor, skinny volunteers in green Expo t-shirts trying to maintain crowd control.
People jumped over barriers to get ahead in line and were set upon by unhappy mobs.
One man stupidly queue jumped ahead of me and I smacked him with our rolled up Expo guide. The crowd cheered.
Inside the grounds, the crowds dispersed. We headed over to Europe and impulsively started queuing for the cork-sided Portuguese pavillion, not realizing that the line stretched around two sides of the building, looped thrice. Thus we waited another hour.
In the queue, people unfolded short stools and squatted down and ate tea eggs and cucumbers and buns and left the detritus scattered around them. Men smoked. A man from Nanjing University made conversation with us to practise his English. When we finally made it in, hemmed in by the hundreds of others who were let in with us, we realized one thing: the Portuguese pavillion is fucking boring.  And until the chirpy tourism propaganda video finished, no one could leave the main hall. I kept myself busy by taking pictures of people taking pictures of each other in front of a large Portuguese plate that kept changing colour.
One redeeming aspect of the Portuguese pavillion was the tiny restaurant at the exit.  There, we celebrated the end of our three hours of queuing with glasses of vinho verde and, for me, a lovely bowl of caldo verde, thickened with spud and laced with thin slivers of real chorizo.
After Portugal, we decided we were sick of queues. That's how we ended up in lego-block Serbia.
The line for that one was fifteen minutes.
I like Serbia. Serbia is air conditioned, has lots of stuff to distract you with, and the exit is not locked.
I learned that Serbia invented time.
I also saw a lot of photos of Serbian pop stars and anonymous giant heads.
The floor was glass, elevated above white plastic blocks.
We were in an out in minutes.
There are only so many giant anonymous heads that one needs to see in one's life.
We braved the snaking Turkey line after Serbia. The pavilion is earthen red and square, covered in a latticework of holes. Its theme is that it is the cradle of civilization, with the red lacework presumably representing holes dug in archaeological sites.
I suppose this is to cover up the fact that, whoops, contrary to the theme of Better City, Better Life, Turkey is still struggling to do the whole efficient modern urban thing- when I left two years ago, the Istanbul reservoir was painfully low due to misuse and we had water and electricity cuts at regular intervals. Let's focus on the ancient history. It's generally tidier.
The Turkish pavillion is lovely and dark and cool, filled with recreations of archaeological pieces and the underground cities of Cappadocia (been there!) and the old Roman aqueduct that now has several lanes of traffic running through it on the way to Eminonu, at the entrance to the Golden Horn.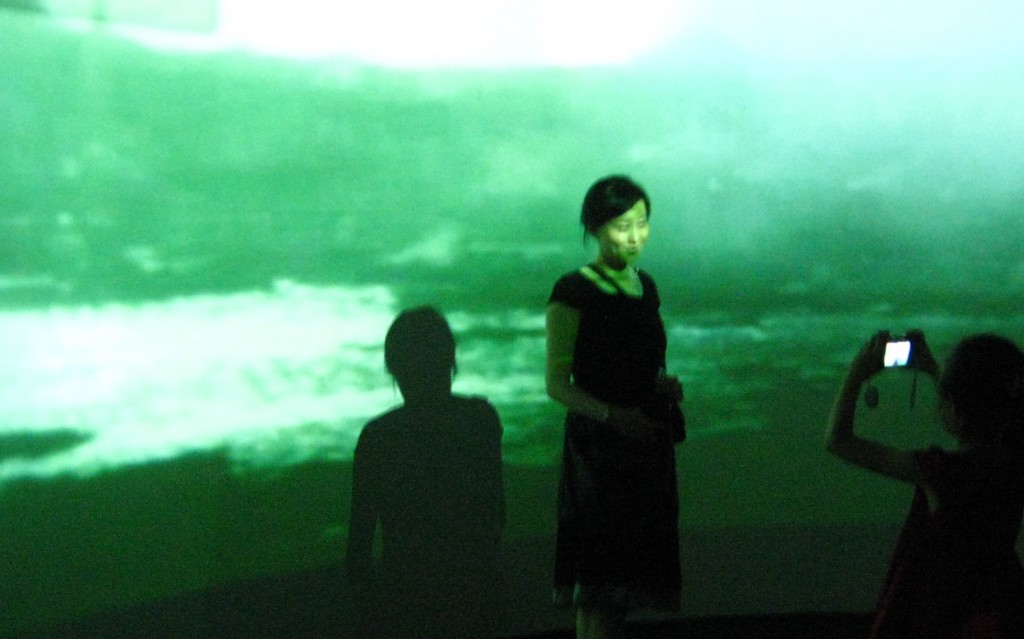 We thought we'd stop in their restaurant at the exit for a raki, for old times' sake. There was a queue for the restaurant. I approached the man in charge of letting people in.
"Have you got a table for just two?" I asked in Turkish. His eyes widened. I guess he hadn't expected that.
"Recep! Recep! Cover me!" he called to another man (in Turkish). In spite of the long queue that we had jumped, he led us upstairs to the crowded restaurant and presented us with the lone empty table.
"Siz Türkmüsünüz?" he asked me. Are you a Turk?
"No, no, Kanadalıyım," I replied. "I just lived in Turkey for six years."
"Harika," he said. Wonderful. "Maşallah".
"Evet, harika," Yes, wonderful.  Indeed, yes.
"Görüşürüz!" See you! He bounded pack to his post downstairs, seemingly quite cheered up by our conversation.
The waiter approached us and told us that this restaurant was wholly prix fixe- no raki, sorry, but the menu did include a glass of Efes beer with your Iskender kebab.
We noticed then that every single person in the restaurant was eating Iskender and drinking Efes. We had just eaten in Portugal. Iskender kebab is a big kebab: thin slices of grilled meat layered over chunks of cubed pide flatbread, doused in tomato sauce and melted butter (if done properly) and finished with a huge dollop of thick, full-fat yogurt.
We politely declined and slid down off our bar stool chairs. Our original obliging doorman was at the exit with a bemused look on his face.
"We only wanted a drink," I explained as politely as I could muster in rusty Turkish. He nodded, knowingly.
Downstairs we decided an ice cream was as good as a beer, for the time being, so we queued for the dondurma stall. They were selling the traditional mastic gum ice cream, the kind I used to buy on hot days in Kayseri because it takes a very long time to melt in the heat. It's chewy, cold, and tastes a little like pine.
The ice cream scooper was be-fezzed and pulling the same tired gags that every dondurma seller pulls: because it's so thick and gummy, it can be twirled around on its long scoop without fear that it will fly off.
Every dondurmacı plays a tiresome game of gotcha with their customer before they finally put the ice cream into the cone in your  hand.  I humoured him and held my empty cone out patiently, waiting for him to stop flipping the ball of ice cream around, playing hide and seek with it. The game was tired for me after my first of six years in Turkey. I told him as much. I just wanted my dondurma.
"Maşallah" he said.
TBC: After this, Eire, Pints of Ale, Indonesia, Cambodia, New Zealand, Poland. Brunei was too boring to mention.