One of the emotionally complicating factors of constantly living in and travelling through countries with troubled pasts is that you will inevitably end up having many conversations with and interacting with people who had lived through that troubled past.
And given that troubled pasts often involved death, betrayal, torture, imprisonment and whatnot, it's a disconcerting feeling wondering which side the guy selling you a beer was on.
Or whether your student had any immediate family members or friends tortured and imprisoned (which happened in Turkey a few times, including once with a middle-aged business student casually mentioning that his father's three best friends were executed for being communists after the military coup thirty years ago).
Or whether the sweet middle aged Chinese dorm mother you work with daily ever betrayed her parents as a Red Guard, or if she had been pulled out of school to farm millet for her teen years, or if her family had starved to death during the famines after the Great Leap Forward.
(Side note: I'll probably get myself on the Great Firewall's bad list for this one. Too many key words. Damn.)
In Cambodia, I kind of knew which side most of the people were on, since the Khmer Rouge pretty much destroyed the country and its people quite thoroughly before finally being run out of town. So I started wondering about all the kind, smiling people we met: the tuktuk drivers, the waitstaff, the guides, the construction workers, the hotel staff, the armless and legless land-mined book sellers on the streets,  the children running after you keening out a phoenetic approximation of monnaieeeeeee monnnnaiiiieee.
I'm making these photos big, by the way, so they can be seen clearly and immediately. They will be wider than the parameters my theme gives me. This is intentional.
I don't want small pictures here.
You know that everyone had been screwed over, whether directly or indirectly. It has been pretty hard to be Cambodian in the past 50 years and have not had a rather rough time (to put it mildly).  I read somewhere that Post Traumatic Stress Disorder levels ranged from 50% to 80%, depending on how it was defined.  The genocide took place between 1975 and 1979. I'm 36. I was born in 1974.
If I had been born Cambodian, my family and I would have definitely been murdered: we are full of teachers and educated folk, city dwellers mostly.
As a baby, it would not have been inconceivable that I would have been murdered alongside my mother. In the museum, I saw a portrait of a young mother holding her baby before being tortured and murdered. Both of them. The baby was tortured and murdered too.  It was their mug shot. The Khmer Rouge were very meticulous in their documentation: mug shots just after arrest, shots after torture, shots upon death.
I want to show you some photos I took one day in Phnom Penh.
We went to the Genocide Museum first, as it's in town, in a former school. AKA Tuol Sleng S21. It was a Khmer Rouge prison. They tortured and killed more than 20,000 people there during the Pol Pot years in the mid-late 1970s. A school.
A freaking school.
The classrooms were used as prison cells. There are torture instruments still in the classrooms.
There is barbed wire across the balconies that run past all the classrooms on the upper floors so people wouldn't be able to escape by jumping.
There are monkey bars in the playground that were re-purposed for lynching.
There are graves in the playground, holding the last remaining corpses found after it was liberated. Seven people survived.
As a teacher, this horrifies me even more than it ought to.
I walked around the school grounds, mostly separate from Doug and his parents. It was a museum I could only process in solitude.
My inner inappropriate macabre self noted the mops in the stairwell and I took a picture of them because, well, mops are my thing.
Even mops in a fucking torture chamber. In a prison.
I didn't have a guide, though I probably ought to have hired one for depth of understanding. Apparently the guides there have first hand knowledge of what went on there. Apparently no one wants this job.  The job involves reliving an appalling, horrifying past on an hourly basis. There are guides there though.
I saw a guide look away as a young American girl burst into tears when shown the monkey bars where people were tortured.
We never usually think of monkey bars as instruments of torture. It fucks with your head to know that others did.
Across the street from the walled (reinforced by barbed wire) school/prison are a dozen waiting tour buses, another two dozen tuk tuks, and a lot of souvenir shops. Some are charitable. Some are just souvenir shops.
I bought a courier bag and a purse made of newspaper that had been laminated then sewn into bag shapes. This was an NGO operation to assist women impacted by, well, being Cambodian.  They are excellent bags. I recommend getting one if you're ever in the neighbourhood.
There are also few small restaurants and cafes, a backpacker hostel. Across from a place of genocide. It's an uncomfortable juxtaposition for me.
After this, we went to the Killing Fields. I knew about the Killing Fields. I had seen the movie; I had seen Swimming to Cambodia several times, compulsively, since I was 15.  I had read up on the Khmer Rouge. I had read a lot. I'm a history nerd. I have a BA in revolutionary Chinese history with a minor in every other country in the past hundred years who did appalling things to its people (not a lucrative field, I can tell you that- and it comes with an awareness is not an easy thing to possess).
I want to show you something.
I find it very disturbing to think about people without heads. We are supposed to have heads: it is part of who we are. And yet here, in the Killing Fields, the first mass grave I came upon was for the headless. I felt ill.
But that wasn't the first thing I saw. Let me show you what everyone sees when they first arrive (aside from the armless/legless beggars pleading for alms at the entrance gate).
Shall I give you a close up for full impact, so you don't just scroll down quickly without realizing that you are scrolling past the skulls (and proof of murder) of hundreds of people, primarily artists, writers, teachers, professors, city dwellers—- folk like most of us who are reading this (or writing this)?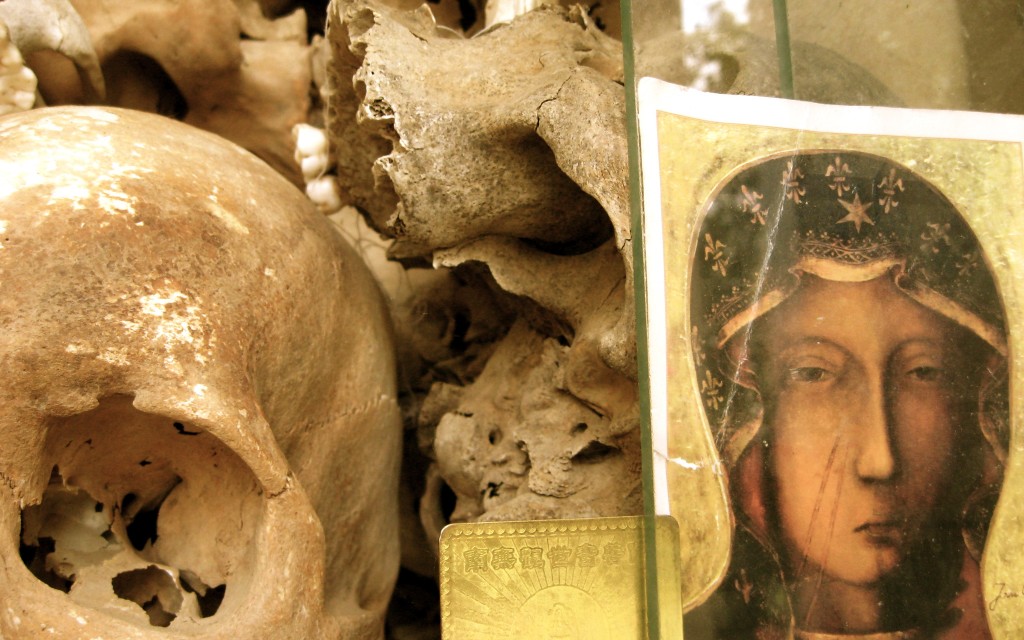 I want to show you some other things.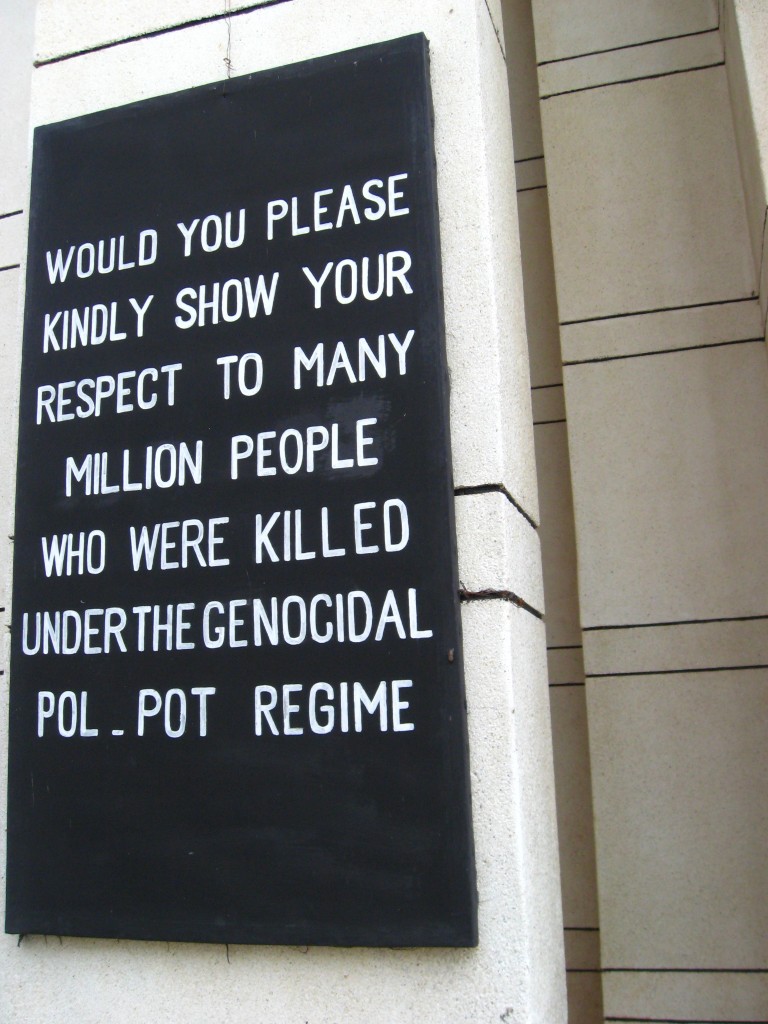 After the Genocide Museum and the Killing Fields, we tuk-tuk'd back into town and, well, had dinner and a few cocktails and went back to our rather pleasant hotel room (the one with a private pool) and slept soundly. Because we could. Because no one was trying to murder us or our families.
Let's just stop a moment and think about this.
We are lucky. We are blessed. Our families (I hope) are not methodically imprisoned and murdered. If we travel, we are blessed. Our lives are fortunate.
We must not forget how amazingly fortunate we are.
Because we are.