Have you seen this baby?
A year ago today, he made a mad dash for the outside world, narrowly averting a first appearance in the hospital elevator, born in a hastily cleared labour room to the sounds of John Coltrane on the iPhone. Everything went so quickly not according to plan that the home birth with the pool and iTunes playlist and gummi bears was jettisoned and we were out the door with barely enough time for the hospital staff to find space for us.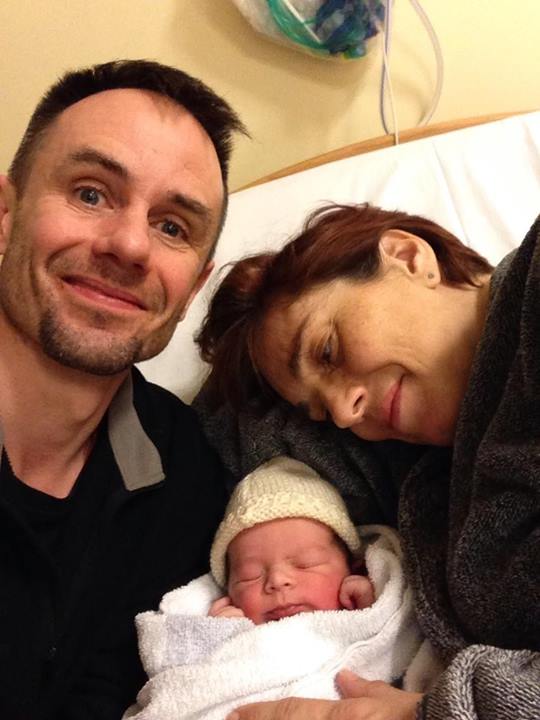 We were back home within 8 hours of my water breaking, sitting in the tiny front room of our house at 3am with snoozing baby in arms, dressed in his moose suit with a mop of dark Paul Weller mod hair poking out from under the antlers, sipping the much anticipated mini bottle of  Prosecco I'd saved from the flight to England from Canada when I was 28 weeks pregnant.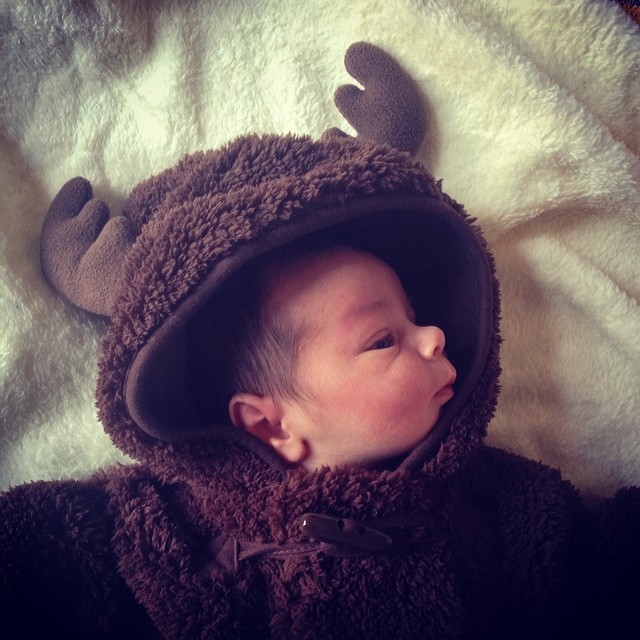 Since that chilly February evening in the wilds of semi-urban Leicester, this baby has thwacked his way from England to Canada to Vietnam, with seven flights to his name (two of which were 10-13 hours long and he behaved himself so reasonably that flight attendants and nearby passengers complimented him at the end), countless taxi journeys, 3 long-distance coach journeys and several road trips around rural England and Canada.  He has slept in tents in wet Peaks District fields and in hotel rooms all over Vietnam. He got his first passport (British) at four months, and is now condemned to be identified by the photo of himself being propped up in a supermarket photo booth until he can get a new passport at the age of five.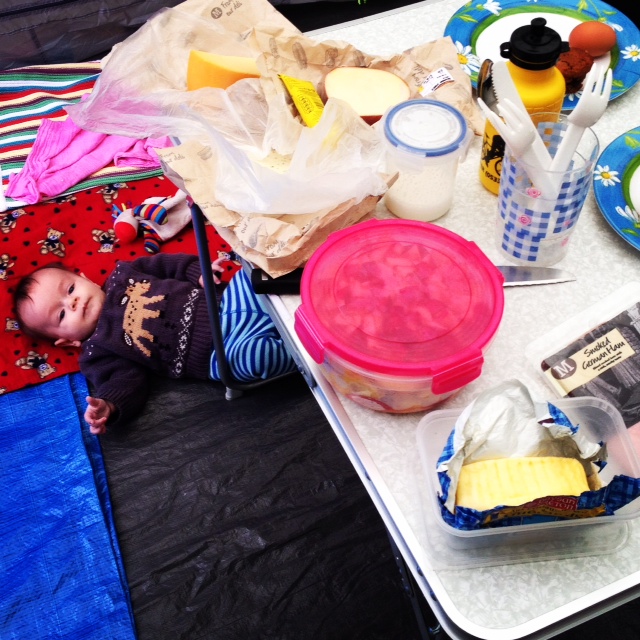 He has happily agreed to be manhandled by countless friends, family, waitstaff and random strangers on three continents, accepting gifts of cucumbers, lychees, 3 varieties of candy cane and foil covered cheap chocolate Santas.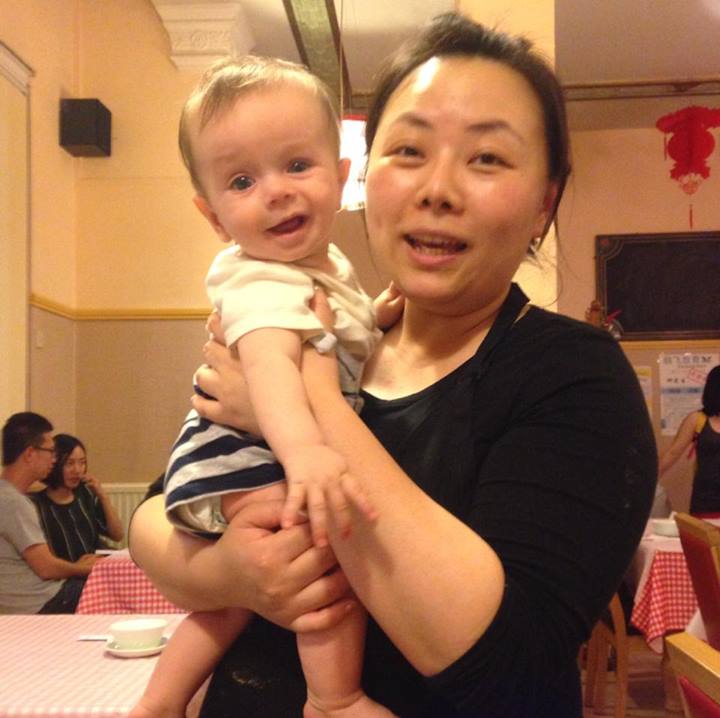 He was in his first pub at three days old and his first bia hoi at 7 months. He's been a respectable diner in restaurants from the beginning, with table manners that are not yet anti-social (his toddler years may ruin our dining habits). He knows how to eat from chopsticks and is adept with long, slurpy noodles.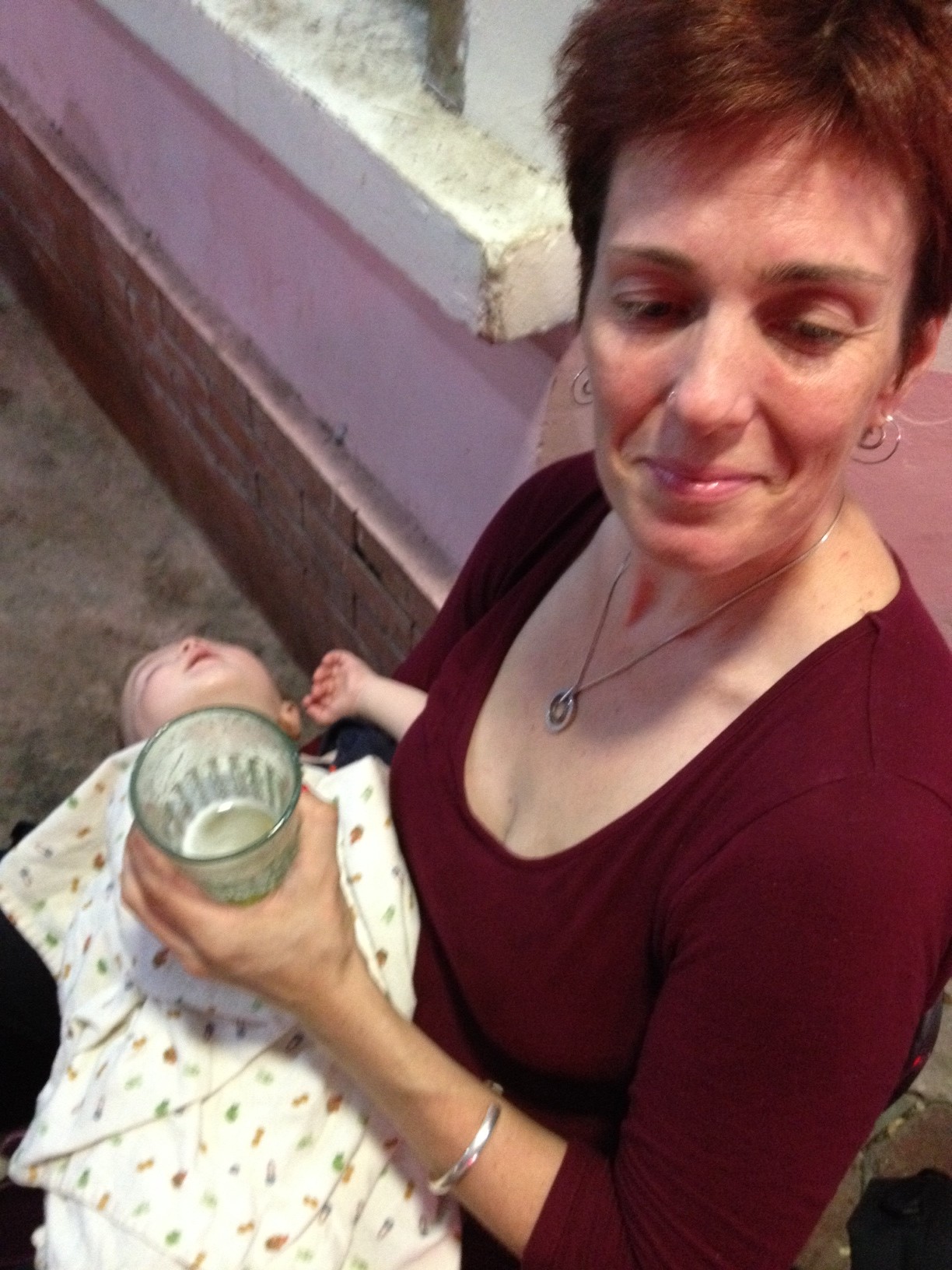 His first taste of food that wasn't me was hummus at 4 months, followed by everything else under the sun, from passion fruit to black olives to chicken korma to roasted garlic cloves. His first word was banana. He still hasn't bothered to learn my name.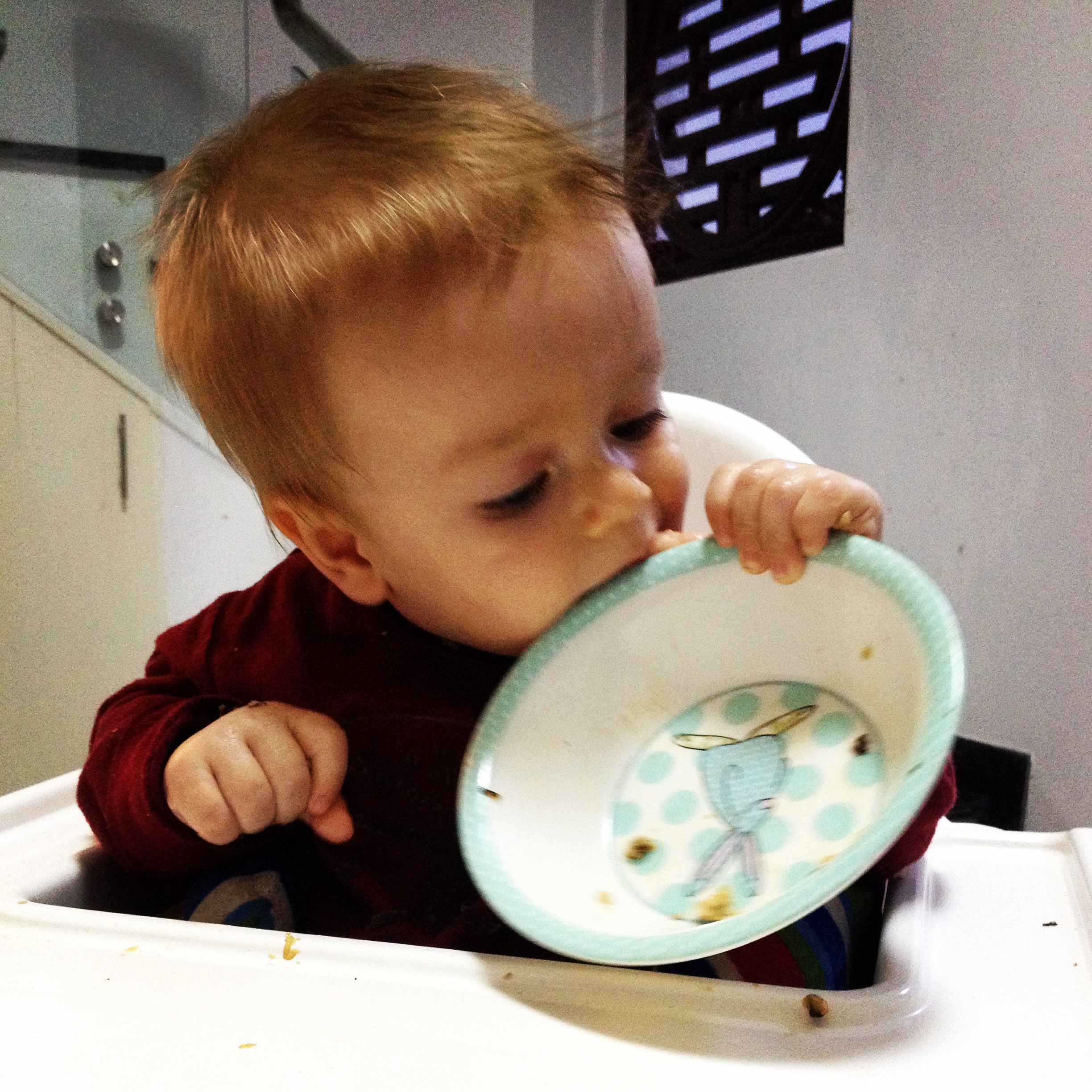 He can sit like a champion Buddha, squat like a sumo wrestler,  crawl like a drunken judo master and stand if he doesn't realize that he is standing. He can expertly climb the stairs, both up and down, and is adept at scaling sofa cushions, beds, window bars and playground slides. He adamantly refuses to walk, possibly because his fierce approach to crawling (slap! slap! slap!) is faster than anyone could walk with legs so short.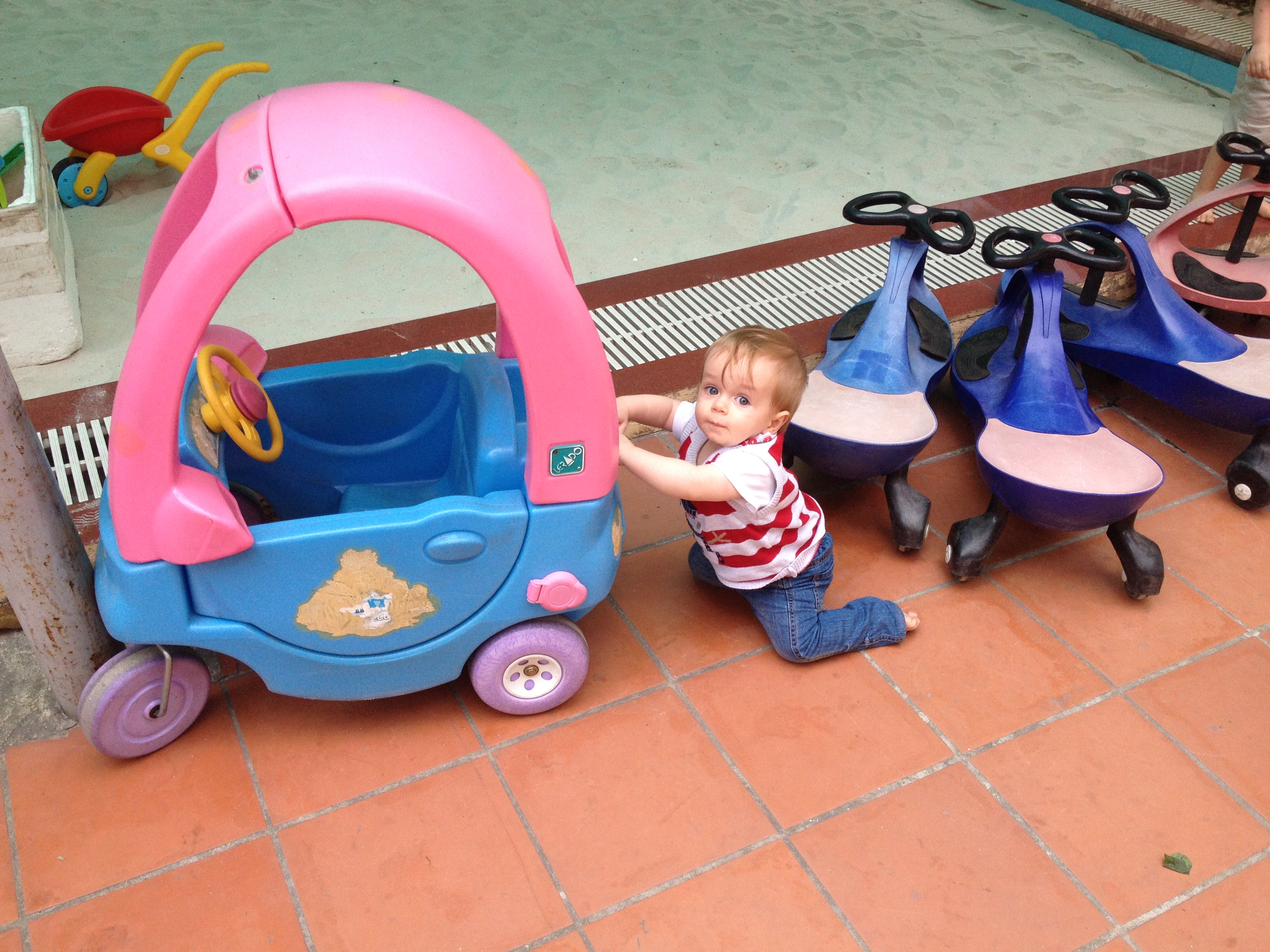 He laughs more than he cries and his laugh sounds like a dog's squeaky toy when he does. He has a mad and wonky sense of humor, which we are trying to cultivate and warp appropriately.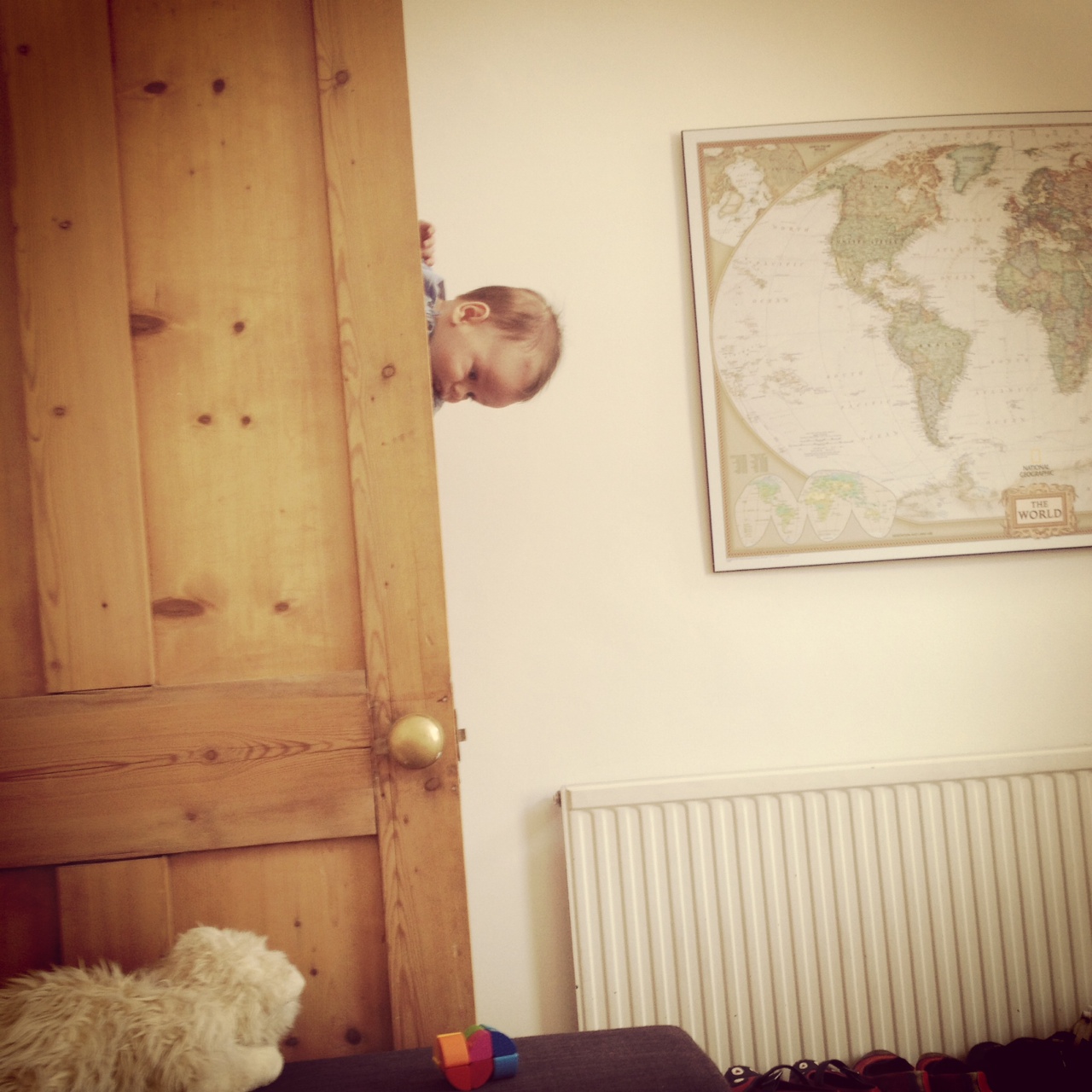 He can carefully pluck and strum on his Doraemon ukelele and can hammer out some excellent clinky plinks on his xylophone. He can drone out a fine hum on the Thwaxophone (which some might recognize as a snorkel). He drums the surface of anything drummable. His father has repeatedly threatened to buy him a drum kit. His first live gig, at the Donkey in Leicester, was a group made up of the Gaye Bykers on Acid. He was nonplussed.
He is brave in the face on oncoming Hanoi traffic, not even batting an eye when nearly sideswiped by unexpected scooters and hulking black SUVs. Boldly adventuring up all three flights of hard, twisty marble stairs in our house, he is a bold explorer, trying every locked door and poking his nose (and more) into every cupboard and crevice.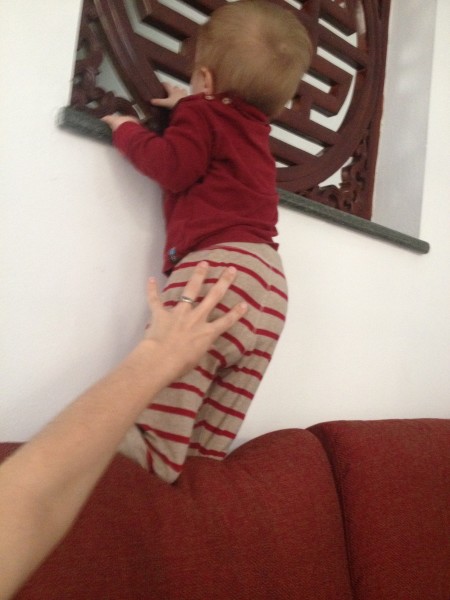 He knew where the water main was before we did and, at 8 months, turned off the ground floor water source for a while until we realized it wasn't just a random-Asia-utilities-fail. By 9 months, he had figured out how to unlatch the gate on his playpen and, shortly thereafter, how to loosen the screws holding it all together. Everything is wrapped in postal packing tape now.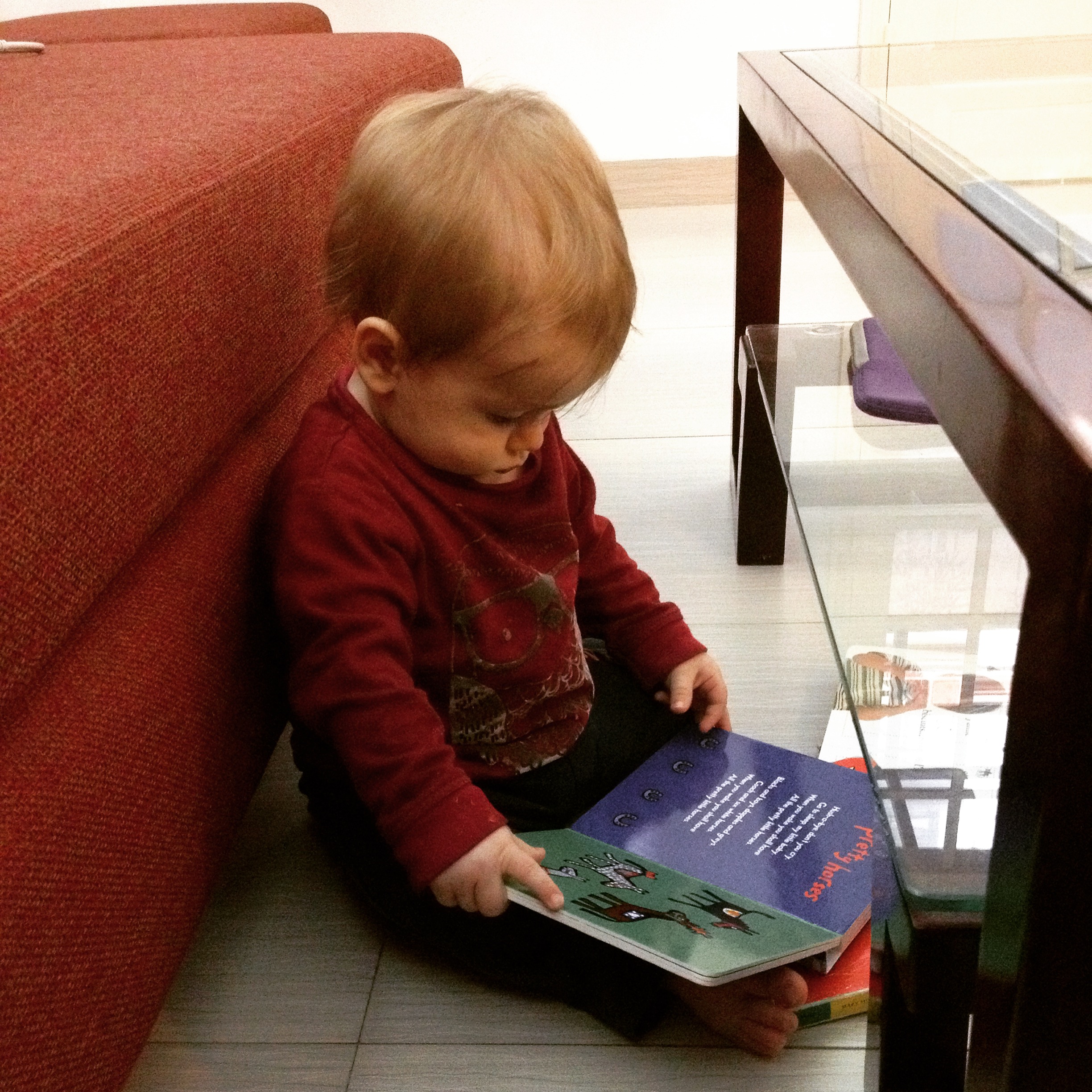 Happy first birthday, little dude. You've been super tolerant. Appreciated.