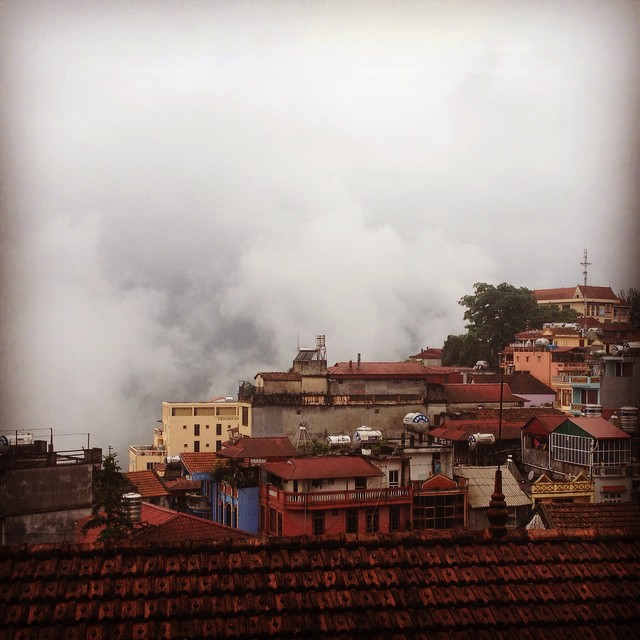 Last week, we took an overnight train to Sapa, the hill tribe tourist hub in the northern reaches of Vietnam.
It's way up there near China, so far up that it's shrouded in mist and fog, with palpably moist cloud tendrils snaking down steep, narrow streets and into open doors. It's up in the hills, surrounded by other steep hills and deep valleys, graded with rice terraces and winding trails and switchback roads you must drive very carefully on. On foggy days, you can barely see metres ahead of you, much less the surrounding landscape.
It's really green and quiet and calm and friendly, after six months in mad, polluted, urban Hanoi.
Sapa is the hub for treks out into the hill tribe villages that dot the surrounding region. It's one of those formerly crumbling old colonial outpost towns where every building in the centre is now either a hotel, a restaurant/bar selling pizza or beer or generic noodles and rice or overpriced hotpot, a souvenir stall selling the exact same mass produced stuff as all the other ones, a trekking stall selling knockoff Northface gear or a travel agency trying to sell you a trek or three to see waterfalls and indigo plantations and hemp weavers and rice terraces and locals doing local things in their local villages.
At one time a French military outpost, then a French settlement, then a French military sanatorium, it was bombed by the Vietnamese half a century ago to get rid of the French colonial buildings. The local ethnic minorities who had lived in town left during the 1950s, and they were replaced a decade later by the Kinh- the Vietnamese ethnic majority- who came up from Hanoi and Haiphong. They had the money, the education, and they currently still run most of the businesses in town. When the town opened up to tourists in the early '90s, they were ready.
The local minority groups can be found all over the town, having hiked or biked in from their villages daily (or slept in the square during warmer months), clad in their trad gear, tailing tourists, selling little purses, bangles, guide services. When you trek out of town, whether escorted by a hired guide or on your own, you will soon find yourself closely tailed by one, two, three or more tiny women persistently insisting that you buy something. They attach themselves like gentle, chatty limpets and their memorized sales patter starts to form repetitive patterns in your brain after a while. You start to feel like all you ever say is 'no shopping, thank you' and you feel like crap because that's what so much human interaction has been reduced to at that point.
It's just business though, and people do what must be done to get by. It's nothing personal.
The ethic minorities living in the surrounding region are, generally speaking, pretty poor. When you hike out into the valleys, you can see national and international development initiatives: a new hydroelectric dam, new power plants for the villages spread out amongst the valleys, new bridges, new paved roads replacing old trails, village craft centres where they can sell their wares to passing tour groups, village schools (lacking sufficient books or paper or pencils), but there isn't much run, owned or controlled by the Black H'mong, Red Dzao, Tay, Giay or Xa Pho themselves, aside from some small village shops or village craft stalls. Like I said, they're still working on improving the basics in healthcare and education and feeding their families.
Tourists tromp through their villages daily, snapping photos of them and their homes and their lives. Some of the villages are remote enough to not feel overrun and theme-parkey, while others, well, others not so much.
Which leaves us with Cat Cat, a Black H'mong village about 2km downhill from Sapa. Practically a suburb- if suburbs had entry fees.
You don't need a tour guide to take you there- it's well marked, all the way down to the ticket booth at the top of the village (40,000 dong per person, free for toddlers) and the fake cement wooden archway marking the entrance to the long stone staircase leading down a steep hillside through the village to the waterfall at the bottom.
On the way down, you pass dozens of souvenir stalls selling the same stuff they were selling in Sapa, as well as the occasional educational sign, pointing out a (demo only) water powered rice huller or similar.
There's an official government billboard at the entrance to the village, reminding us not to buy from hawkers or give money or candy to children or to leave rubbish or whatever. Not far from the billboard are several non-Hmong vendors selling massive bags of candy and cookies and ramen noodles and jelly cups to tourists, who then proceed to hand them out to the village kids like proud benefactors or obvious Santas as they tromp down the stairs through the village in their tour group baseball caps and matching bags.
The scruffy, sniffly kids (not dressed in trad gear for the photo ops, but rather in very worn trousers and t-shirts and cracking plastic flip flops) hold their hands out expectantly, sometimes aggressively, for the candy, the packets of dry ramen noodles, the sweet jelly cups, the individually wrapped cookies. One year old babies gummed chewy candies. Every day is Halloween.
All the wrappers end up in the irrigation streams that run down through the village.
Cat Cat is also a working agricultural village, with most of the grown ups out in the fields, tending to the crops by hand and by buffalo. It's labour intensive work. Tourists jostle to take photos of them- between the terraces and the paddies and the buffalo and the greenery and the conical hats, it's all terribly picturesque.
I took pictures too, being complicit in their objectification and all.
People live there, yes. Those sugar-wired kids and those families selling tourist tat and those agricultural workers all live in their village, negotiating space and purpose and identity with the hundreds of strangers who tromp through their living rooms and private space, taking photos and tossing out junk food- even though the sign outside said explicitly not to.
It's a bit of a mind fuck, trying to wrap your head around it all.
Aside from the niggling questions surrounding all the ghetto voyeurism, there's also the matter of how to not be a dick when having to constantly mutter no shopping no shopping no shopping to people who are trying to make a living.
I don't need more stuff. I really don't.
And I don't need a tour guide to accompany me 2km directly downhill.
I don't want to feel so defensive, so on guard, whenever I see a woman in trad garb coming up to me.
And I don't want to feel so relieved and surprised and jaded when they respect my insistence that I'm not going to buy anything and they are cool with just chatting about their own kids and playing with Thwack.
It was all the lovely bits like this mixed up with the zoo atmosphere that made my head explode.
So much cognitive dissonance.