After a year of on the ground research and hitting a lot of dead ends,

up to my knees in utterly confusing maps and locally produced guide books

, I finally completed three smart phone/tablet walking tours that I'm really proud of.
If you are new to Shanghai, whether just passing through or at the beginning of a longer sojourn, I would be delighted if you would join me in some rather interesting, insightful, surreal, unexpected and frankly convoluted walks around a city that is often impossible to pin down.
So far, you have a choice of three tours that you can join: Red Shanghai, Former French Concession, Old Town and the Bund.
They are guided by your phone or tablet's GPS system and are flexible and interactive, with shorter or longer routes and side trips offered. The tours, once downloaded, are delivered offline so you aren't charged roaming fees.
I've illustrated them with my own photos and commentary to guide you along, with lots of yummy food stops en route, and you can add your own photos, videos and commentary to make a personalized souvenir video of the walks.
The tours are:
All the best bits of Communist Shanghai, including where Mao slept, where to get surprising memorabilia from the Cultural Revolution era, and the hard to find but fascinating propaganda poster museum.
This is a bit of a sprawling, convoluted tour that combines the easy to use Metro system and your own two feet, and takes in some amazing but disparate bits of the city that you might not have considered visiting, from Hongkou to Pudong to Huashan Lu.
This one, by the way, is my personal favourite.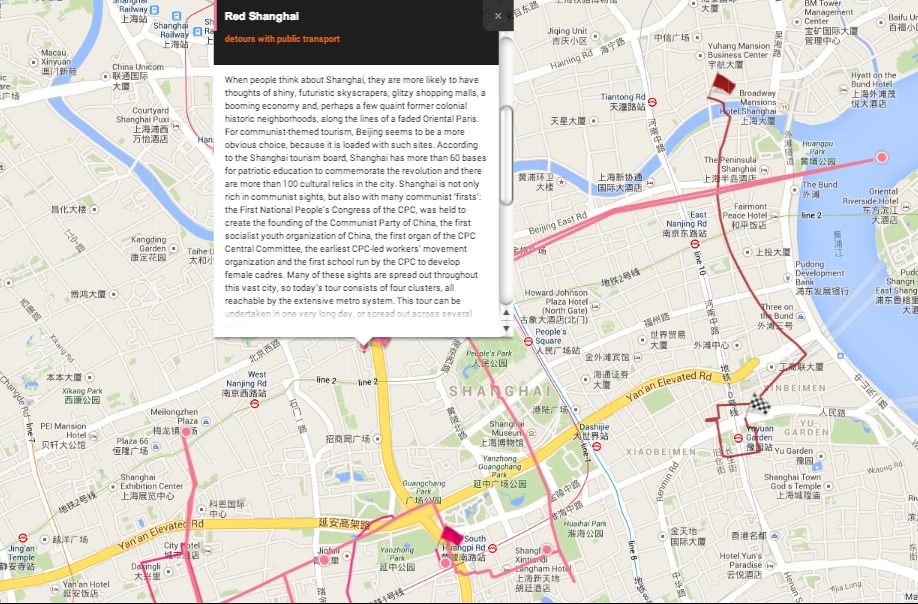 A slightly more traditional route through central Shanghai, this walking tour will guide you safely through some of the more dauntingly convoluted and crowded bits of the old city, allowing you to focus on your surroundings rather than trying not to get terribly lost or swallowed by the hordes.
The walk starts away from the touristy crowds, out along the north end of the Bund, for some much needed fresh air, greenery and room to roam, before diving into the bustling narrow alleys of the old city. This part of the tour is particularly gorgeous at night, when the lights of the Pudong skyline are lit.
Included in the tour are the groovy old shops in the Yu gardens complex, still housing centuries old apothecaries and tea and whatnot, as well as the small commodities market across the street, where you can buy pretty much anything (Need a halloween costume in April? No problem!), some very old temples with curious histories, and the stories of colonialism and independence told through the constantly evolving repurposing of the stern and solid buildings lining the Bund.
My old stomping grounds. I spent over four years of my life walking these streets. I know every inch of them with an intimacy borne of long slogs to work, late night walks home when I couldn't get a taxi, and lunch time strolls with good friends. This area is a beautiful place for a lovely long afternoon walk. Lots of places to stop for something to eat or drink or to simply stop and watch the world go by.
This is that elusive corner of Shanghai that is actually pretty and calm and deeply routed in some very complex history. And there are trees. Lots of trees. Savour the trees.