Over the past decade or two, I've become quite adept at rolling with the punches. Most of my jobs have called for finely tuned improvisational skills and I've had plenty of opportunities to hone them.
The other night, I dreamed that I was told I had ten minutes to prepare a 4 hour intensive workshop using only a thick book full of random, decontextualized words. I said sure, can do. Didn't blink an eye.
Like I said, I am nothing if not adaptable.
So on Wednesday night, when I got a text message from the friend of one of my bosses, one I've been loaned out to for tutoring favours from time to time, asking me if I was up for being flown out to Guilin in Guangxi province for some sort of...something the next morning, I said sure, can do. I'd fly in on Thursday, fly out on Friday evening, in time to get to Nanjing for a weekend of exam work.
Here is Guangxi in relation to Shanghai. Google maps estimates it to be about 1500km, give or take a few kilometers.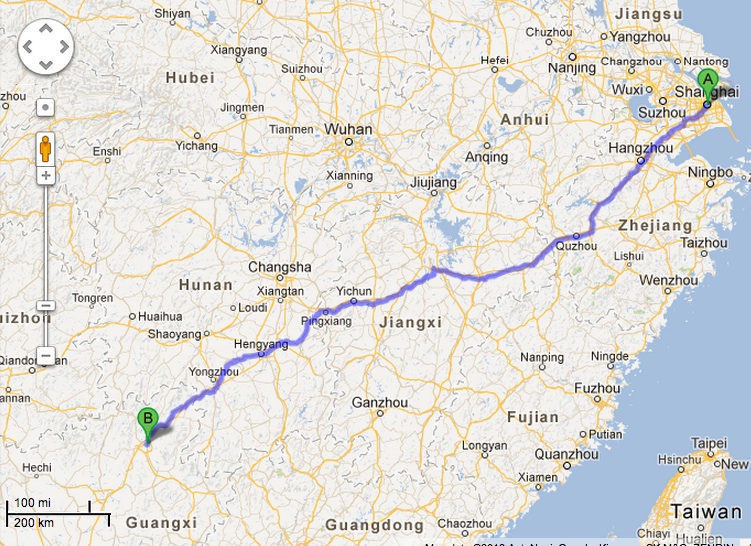 By 9am Thursday morning I had a series of text messages entirely in Chinese in my phone, with details of my imminent flights. Lulu, the assistant who arranged everything, asked me if I needed her to translate them for me.
Of course not, I said, even though my written vocabulary extends to about, oh, 140 characters, most of which pertain to either food, fowl, sheep, bugs, things that are watery/fiery, or the surname Wang (王).
I have, however, figured out how to methodically decode all manner of character-heavy notes, even if the actual characters fade from my memory almost immediately. I'd make a really great spy, as all super secret information is guaranteed to self-destruct in my own brain automatically within moments after cracking the code.
Anyway, Guilin. I flew there a few hours after being informed I'd be flying there, not knowing who was meeting me, where they were planning to whisk me away to, and where I'd be sleeping that night.
Punches, I roll with you.
 Here's the Guilin airport at night.
Transportation
When I arrived at the tiny airport at 6-something in the evening, there was no one waiting for me. It was dark out, aside from the flashing neon of the stand of fake palm trees outside.
Typical, I thought, casually wondering where I might be able to sleep that night. I eyed the benches in the arrivals area. I had spent most of my 20s sleeping on airport benches and bus station floors. Surely my aged, decrepit body could handle one more awkward night. Maybe the KFC in the corner would let me camp out, providing I bought enough deep fried seafood stars and egg tarts.
Then Lulu the Ticket Arranger appeared out of nowhere and hugged me, which isn't something I expect from Chinese people I've never met before.
Then three squeaky clean young North Americans rolled up with their wheelie bags and remarkably perky demeanors (I found out later that 2 of them had been travelling since the day before, needing a 13 hour K-train ride from rural Anhui just to reach Shanghai to catch their flight). Apparently they had also been summoned. They also seemed to actually know what was going on. That was good. No waking up in handcuffs and ball gag in local mafioso's basement for me then.
Lulu took us to the airport KFC I'd planned to camp out in, to stock up on vital saturated fats before our long journey to Liuzhou.
Ah, so it was in Liuzhou that I'd be sleeping. Good to know.
I had never even heard of Liuzhou. I'd been to Guilin once before, back in 2010, but Doug and I had spent most of that trip in the wilds of Yangshuo, hitching rides with lower level cadres after falling off the bike map and ending up in the next county.
I texted Doug, who googled it for me. It's 167 km from Guilin, as the Quetzalcoatl flies, or 3 hours by car on dark, winding, occasionally smooth roads.
I ordered a large black coffee. It was 7pm. I was tired. I still didn't know why I'd been summoned to the middle of China on such short notice. At least I was now reassured that I wouldn't be subjecting myself to sleeping at the airport KFC, slouched over on a greasy table, listening to Christmas carols being played on a never ending loop.
Accommodation
After several hours in a black minivan, I found myself in Liuzhou. By night, Liuzhou appears to be composed of a series of neon lit KTV bars. Our driver got lost amongst the flashing lights and we didn't get to our hotel until nearly 11:30pm.
Then Lulu said, I'll see you at 6:30am for breakfast. We had to be at the first high school by 7:30.
Oh. High school. The first high school. One of possibly many.
I still didn't know why I'd been flown out. At least there would be breakfast.
Here's my hotel room, where I got my bare minimum of sleep. It had a wonderful view of a grey concrete block cell through the window, as well as a clear view of the toilet from the bed (which was quite comfortable).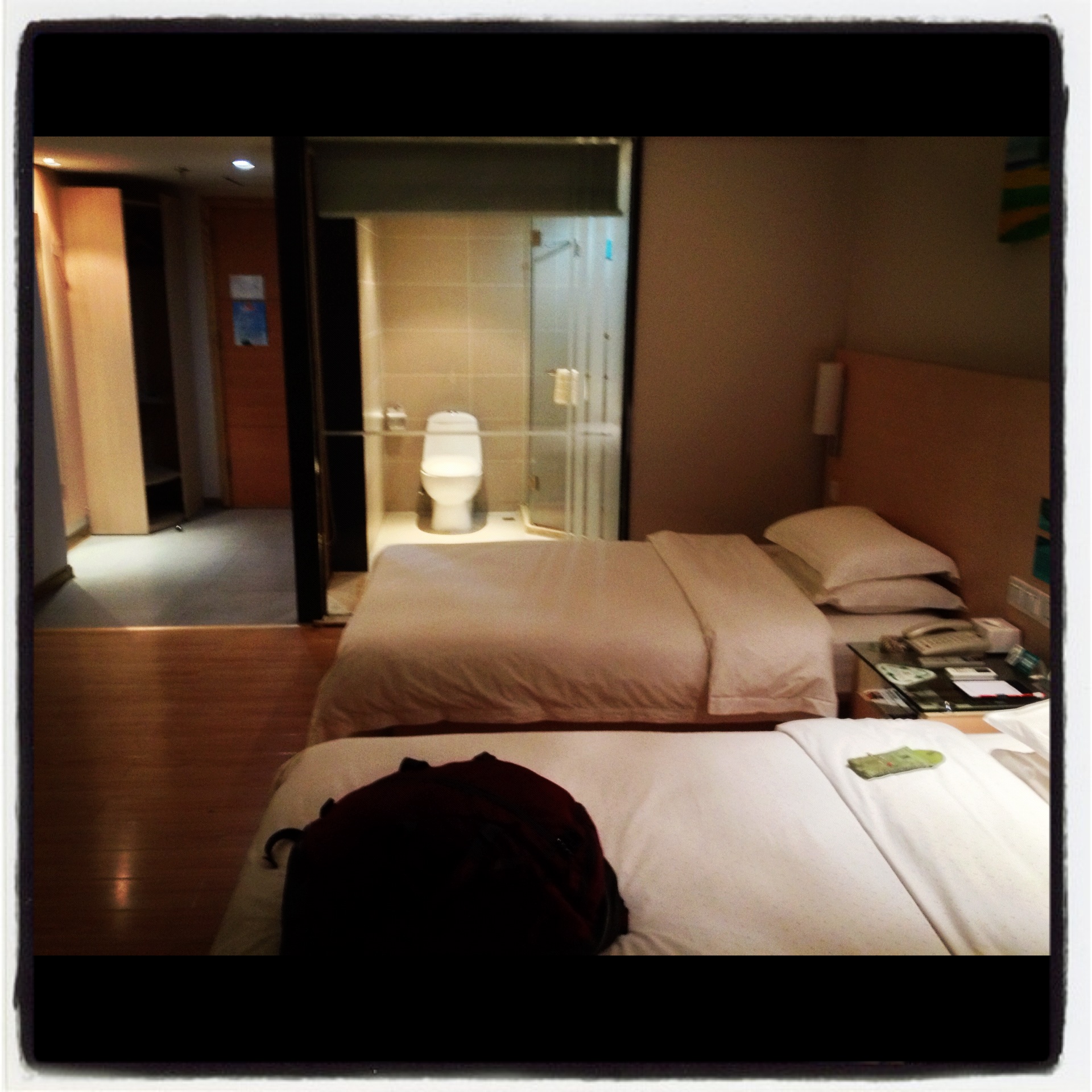 They also thoughtfully provided Apple branded Deluxe Condoms by the bedside, in case you had the time and energy for such things.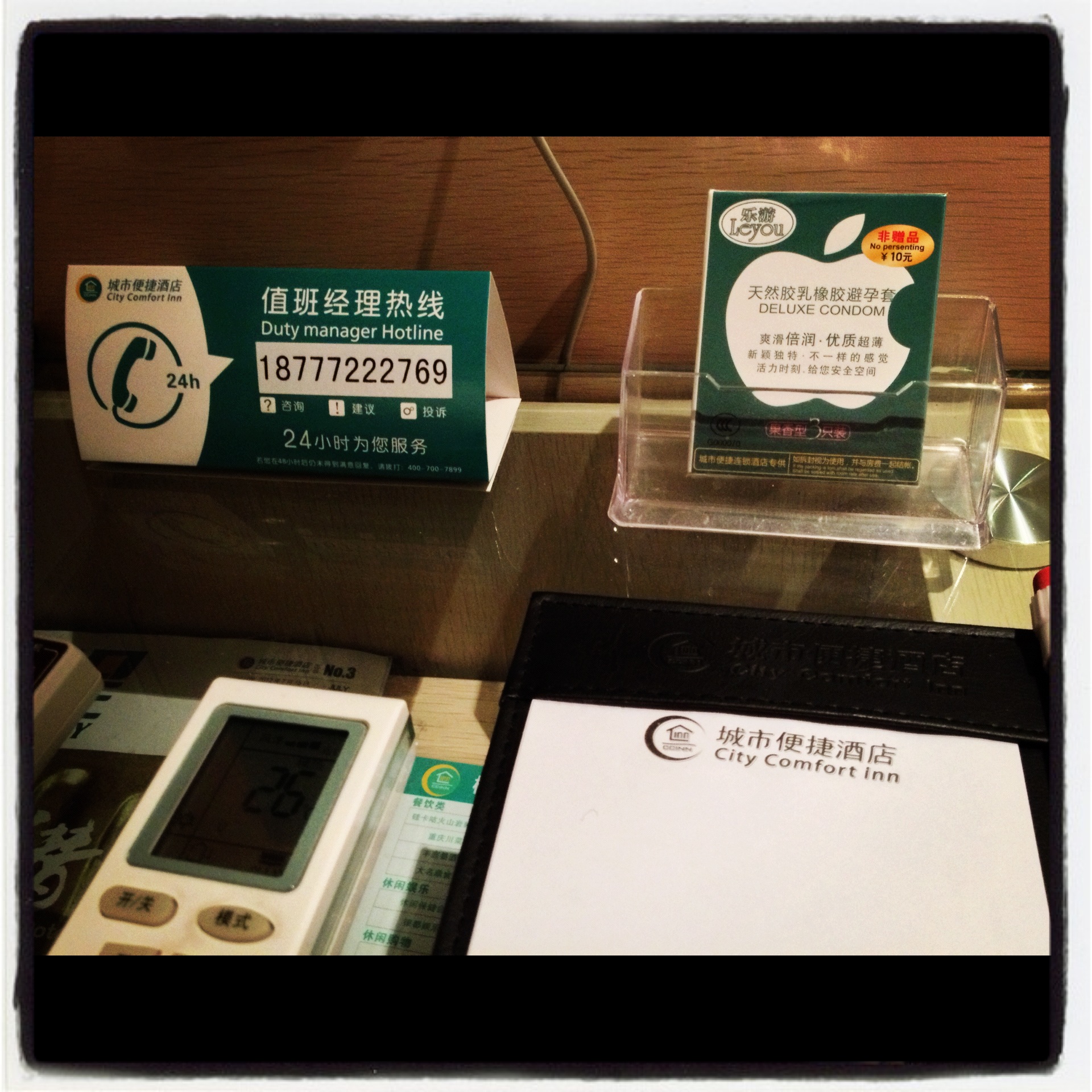 If you weren't up for a little copyright infringing fornication, then you also had the option of what appeared to be Vienna sausage enhanced instant noodles. Or perhaps a nice cup of tea.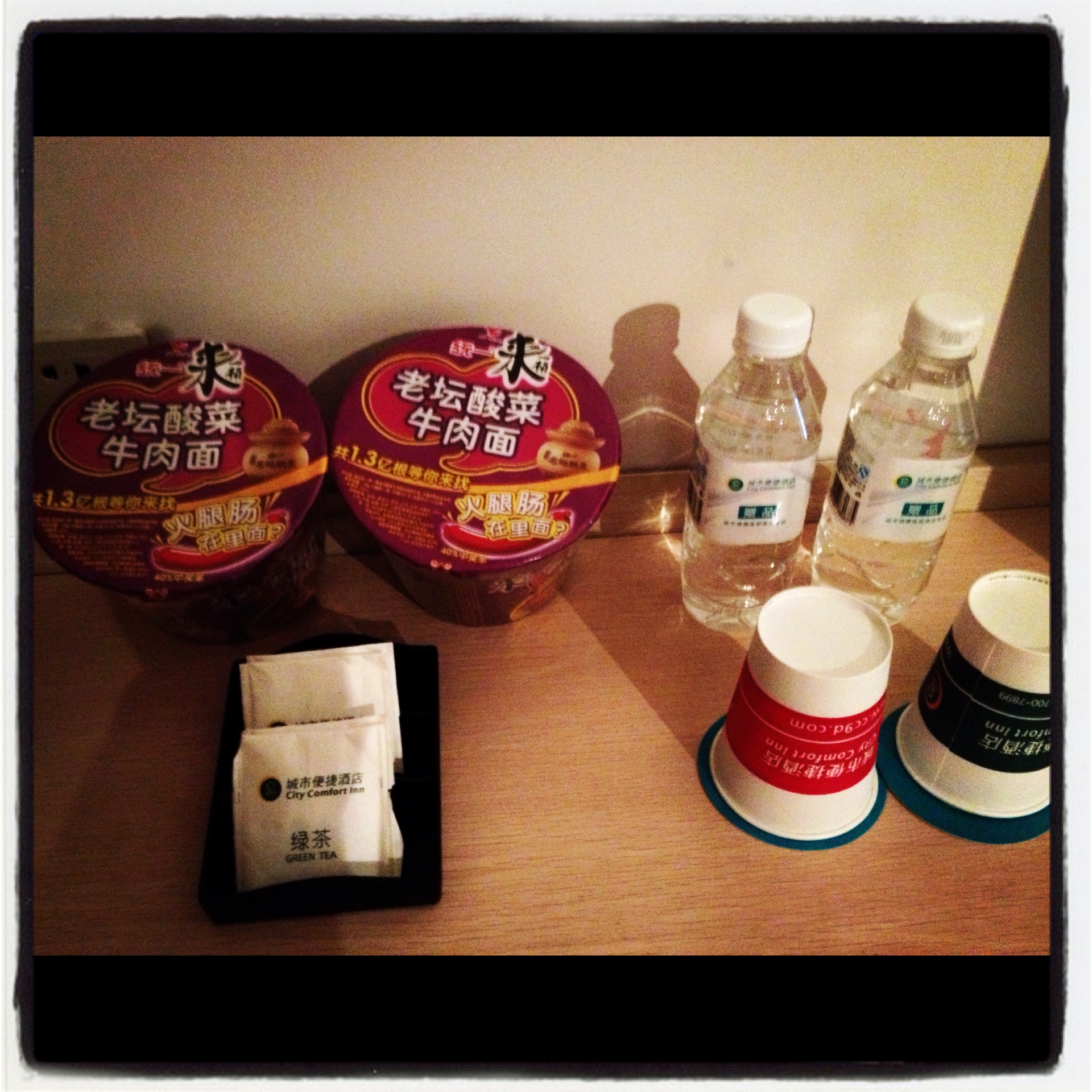 I chose sleep, as I had to be up early enough to catch the congee while it was still lukewarm. I desecrated mine with a ton of pickles and chilies.
It was 6:30 am, with no coffee in sight (there was, of course, hot soy milk), and there was still the matter of that mysterious high school visit at 7:30. I had no idea what my day had in store for me, which is, oddly enough, a not unfamiliar feeling.
I had learned the night before, during the long minivan ride to Liuzhou, that my travelling companions were Yale Teaching Fellows.  Aye, I was in the company of recently graduated Ivy Leaguers over on a 2 year semi-volunteer stint in the wilds of Anhui, Changsha and, well, Hong Kong. They were here to give some sort of teaching demonstration to various top high schools in the region. The Hong Kong teacher would be doing a little teacher training as well. They were all affiliated with some sort of educational charity that Lulu's father was spearheading.
My role in the whole thing was still quite mysterious.
At 7:30am, filled with rice porridge and pickle, I was picked up in a Porsche and driven to Liuzhou #1 High school. I wished I'd packed some bling, or at least a blow-dried fluffy poodle wearing a dress and booties. This was definitely a step up from the black Santana that the lower level cadre had driven us back to Yangshuo in back in 2010.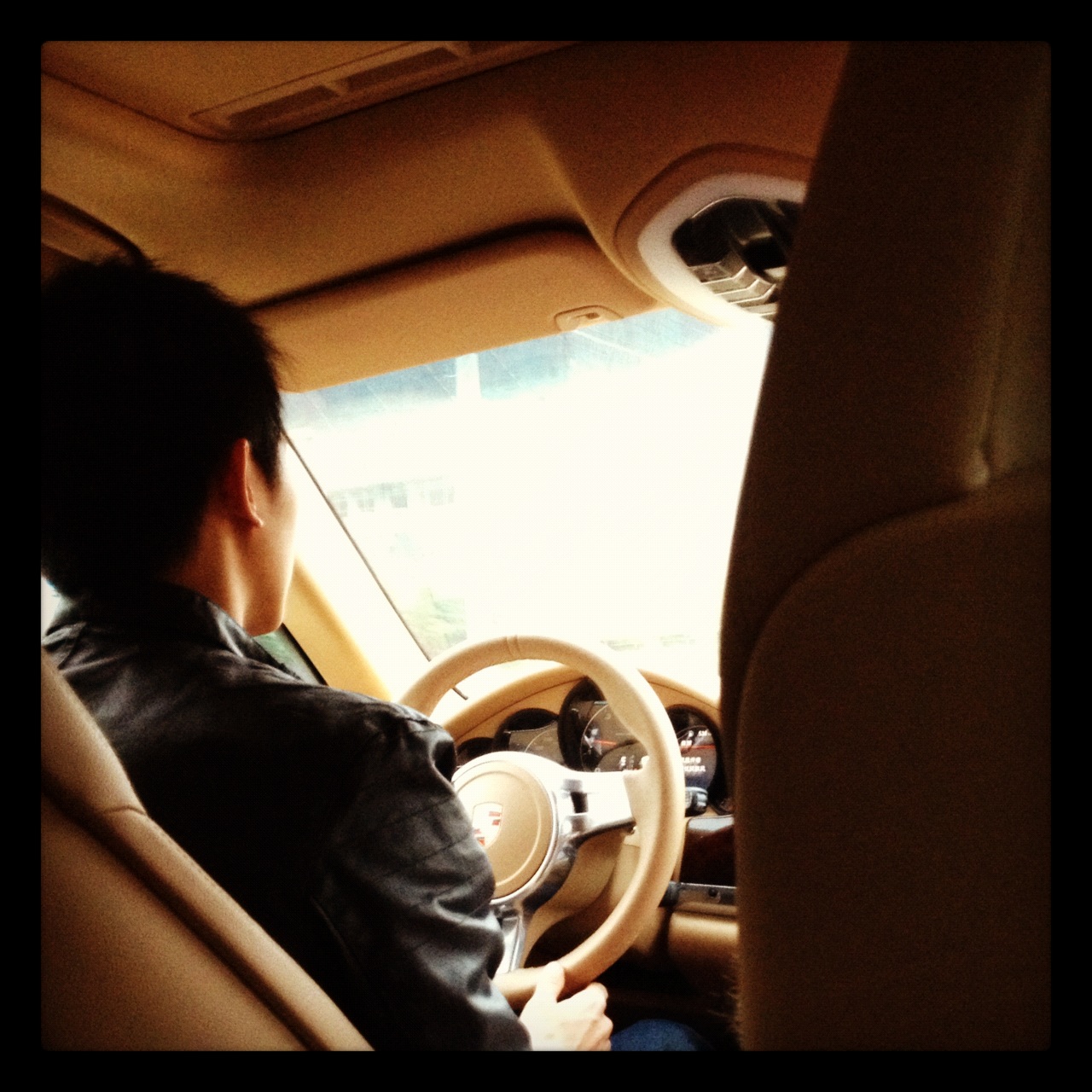 Sights
We were given a tour of the campus, which was huge. It even had it's own lake and about 20 mini basketball courts all lined up in a row.
It had an echo chamber. Or rather, one of those curious spots like the Greeks used to fancy, where your voice is naturally amplified. Theatre in the round stuff. Goodness, I can't even remember the name.
It had an admirably huge sports field, with a lovely Karsty backdrop.
The three women from Yale were hustled off to give their demo class. One of them had even packed her ukelele because that is apparently how they roll in rural Anhui these days.
I was hustled off to the photocopy room with the Hong Kong teacher, the one who was to give the teacher training workshop. I, apparently, would be following up with…something. For the teachers. Not that I had prepared anything because, well, I didn't even know until the day before that I'd be in Guangxi, let alone leading a workshop.
Luckily, I had my trusty laptop with me so printed off a few language assessment rubrics I could hand out whilst talking about, um, non-rote language acquisition or something.
Good thing I spent much of last year giving presentations to audiences of 600 kids about exactly that.
So, to a very warm welcome from local teaching professionals, I made everything up.  No one knew I'd never been to Yale. No one knew I was making it up as I went along. No one even knew I'd packed my trusty silver shovel.
After talking out of my ass for 20 minutes about fluency and coherence and my despair over cliche-ridden student essays, I needed to hunt down the nearest giant thermos full of boiling water.  I had come equipped with my China Survival Cup. If I was going to be able to give another silver-shovel presentation that afternoon in the Number 1 Middle School, I'd first need a coffee.
By god, I'm a sad creature.
Eating
After the spate of elaborate banquets I sat through last Spring, I joined our private-room lunch banquet with a certain degree of trepidation. So many officials to accidentally offend by offering my business card at the wrong angle to theirs; so many shark fin soups to quietly chastise myself for eating. And the bear paw.
But this one was good. This one was friendly. No scary rounds of baijiu toasts until you feel like you're going to be sick. It was noon and we were in Guangxi and we toasted with wine glasses filled with hot mashed potato juice. Apparently that's how they roll there.
There was no bear paw, no shark fin. There was, however, my old nemesis from my Tongji years: the cold offal plate.  For the record, there was a very good reason why I was vegetarian for over 15 years. I'm a total wuss when it comes to edible animal parts.
There were, however, some truly awesome dishes. I was too busy eating to take pictures of all of them (I'm sorry, spicy pickled radish strips! Please forgive me unexpectedly savoury cantaloupe-and-bean dish!). The region is supposedly famous for its spicy rice noodles, but none made it to our table. Alas.
The afternoon was just like the morning, with more demo lessons, another seat-of-pants presentation by me to the teachers, and a rather impressive biographical presentation by the Yale contingent, explaining their rather diverse backgrounds and their paths to Yale and then China.
You know what it takes to get into Yale? Well, a lot more than I ever even bothered attempting to do. I was the one who skipped most of grades 11 and 12, writing awful poetry and sophomoric short stories at the Arbutus Cafe. My extracurricular activities in high school and university consisted of the high school art club (I showed up twice, got bored, stopped), the university newspaper (I covered a few concerts, wrote exactly one comic strip, was very well received, lost interest), and the university anarchy club (never showed up, for obvious reasons).  I was the one who took a decade to finish my BA.
Really, I'm amazed anyone ever gave me a job, much less entrusted me with their education.
These guys were amazing. Student council president? Tick. Art, music, science, dance, sports? Tick. Joining enough clubs and groups that you need a day planner to keep track of them? Tick.
I've never owned a day planner.
I'm such a freaking slacker, though I'd never fully realized exactly how much of one I was.
Anyway.
I was whisked away by mid afternoon to get to the tiny Liuzhou airport, back in the Porsche. Barely 24 hours in Guangxi. Would have loved more. It was insanely invigorating and inspiring. I briefly forgot that I had long been feeling like a big old black cloud full of grimness.
Briefly.
But I really did like Guangxi.